The Ford F-150 Goes Up Against the Ram 1500
Sophisticated style with a bold stance and striking accents is noticeable on the Ford F-150 and the Ram 1500, even when they are acknowledged in a side by side lineup. Despite their production by different automakers, the Ford F-150 and the Ram 1500 are popular pickup truck options. These smaller trucks are convenient and economical. Both offer enough power for routine work and fuel efficiency fit for daily driving, .
Despite the similarities of these two pickup trucks, each one has its own strengths and weaknesses that appeal to specific classes of North East, PA buyers. Though some may be comparable, others are well defined in the selected model.

Explore the Ford F-150
One of the top-selling points of the Ford F-150 is the vast number of configurations available. This truck is built on a military-grade body from high-strength aluminum alloy, which proves why it deserves a top spot in the running for the best mid-size truck. Seven available models make customization a breeze, and six different engine options blow competitors away. Eleven different exterior color options allow buyers to take individualization to the next level, as well. A spacious interior with upgraded materials, tech-savvy attributes, and integrated safety features complete the overall desirability of this Ford truck.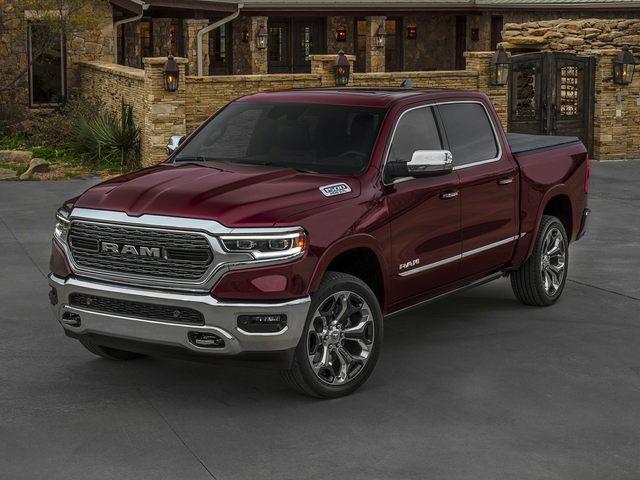 Overview of the Ram 1500
A comparable history of excellence makes the Ram 1500 truck tough competition for the Ford F-150. Enhanced safety features allow this pickup to stand out among others, and a new body style for recent models gives it a modern refresh. Six different models allow Waterford, PA buyers, to select the most desirable features. At the same time, a multi-function tailgate offers impressive versatility and extra storage space. Four different engine options can be paired with a variety of trim levels with the top engine boasting a towing capacity of 12,750 pounds. Hybrid technology makes its appearance in the Ram 1500 model increasing towing capabilities and fuel efficiency. A high-strength steel frame provides a solid foundation for this pickup truck that allows a maximum payload of 2,300 pounds.
Differences and Similarities
Often, Fairview, PA consumers are forced to choose between the Ford F-150 and the Ram 1500, due to their popularity and similarity in features and capability. While they offer many features that make them more alike than different, these two pickup trucks are set apart by their inherent design and values.
Performance: Ford's six-engine lineup and Ram's four-engine selection prove the dedication of both automakers to great excellence. While the Ford truck's most impressive engine is its High-Output 3.5-Liter Ecoboost that produces 450hp, the Ram's best comparison is its 5.7-Liter V8 HEMI eTorque that delivers 395 horsepower. In this area, there is no doubt that the Ford F-150 excels.
Versatility: In comparing the versatility of these two vehicles, the Ram 1500 takes the cake. With its all-new exterior design and multi-function tailgate, it's hard to beat this pickup truck. While the Ford F-150 does offer a few new design elements, they can't compare to the Ram's overhaul.
Technology: Both trucks have had recent upgrades to their technology systems. With their own versions of trailer-assist systems, towing is made easier than ever. However, it seems like the Ford F-150 has had more thought and innovation integrated into its overall tech-savvy design.
Safety: One of the toughest areas of this truck comparison is the realm of safety features. Though the Ford F-150 employs the use of widespread Ford Co-Pilot360 and FordPass Connect, the Ram 1500 has been nationally recognized for its efforts towards safety rating improvement and feature integration. Overall, the Ram 1500 wins in this area.
Overall Truck Comparison
In reviewing used or new trucks for sale, comparing them effectively can help consumers decide. Many times, one truck make excel in one area, while the other wins in a separate area. The Ford F-150 and Ram 1500 are tough competitors that must be evaluated closely. Contact Champion Ford Sales in Erie for directions to check these trucks out for yourself.
Hours
Monday

9:00 AM - 8:00 PM

Tuesday

9:00 AM - 8:00 PM

Wednesday

9:00 AM - 6:00 PM

Thursday

9:00 AM - 8:00 PM

Friday

9:00 AM - 6:00 PM

Saturday

9:00 AM - 3:00 PM

Sunday

Closed