Discover the Unrelenting Power of the New 2020 Ford Mustang
What's built and looks like a Mustang but is more powerful and ferocious than any Mustang ever? Introducing the new 2020 Ford Mustang. Reinvigorating the hopes and dreams of drivers in Erie, PA, the new Mustang brings back Ford's iconic sports sedan but with an added dose of adrenaline and power. At first glance, the new Mustang looks and feels like its quintessential predecessor, but upon further examination, outkicks and outperforms every Mustang that's come before it. Now offering at-home shopping deals for drivers in North East, PA, Champion Ford is here to help you get behind the wheel of the new 2020 Ford Mustang.
Power & Performance
If you're in the market for a new Ford Mustang, then brace yourself for some high-speed performance specs. The new 2020 Mustang, available with six unique powertrain options, offers unparalleled performance from top to bottom. Equipped with a world-class 2.3-liter EcoBoost engine, the 2020 Mustang boasts upwards of 310-horsepower and 350 pound-feet of torque. For an additional 20-horsepower, the upgraded 2.3-liter High-Performance engine adds a boost of extra power as well as an active exhaust with quad tips.
Not only does the new 2020 Ford Mustang have one of the most powerful in-line four-cylinder engines in America, but it also features an impressively powerful EcoBoost powertrain that's exclusive to this model. Paired to a ten-speed transmission, drivers in Fairview, PA, can choose between automatic and manual drivetrains to help dial in your performance on the open highways. Sporting a variety of adaptable driving modes, the 2020 Mustang offers 'Quiet Start' mode for early morning commutes and 'Sport' mode for an invigorating post-work energy kick.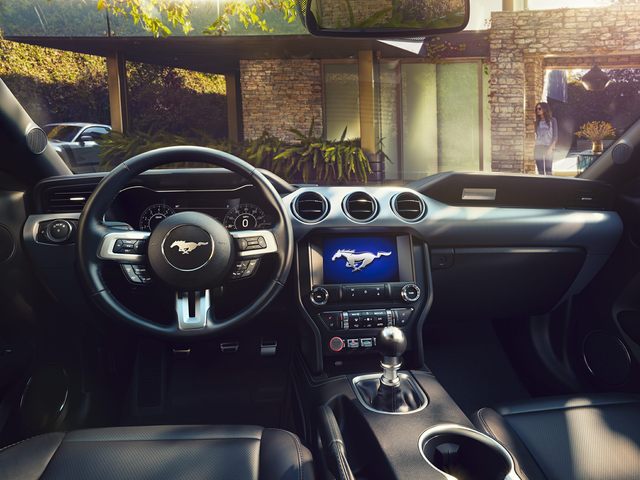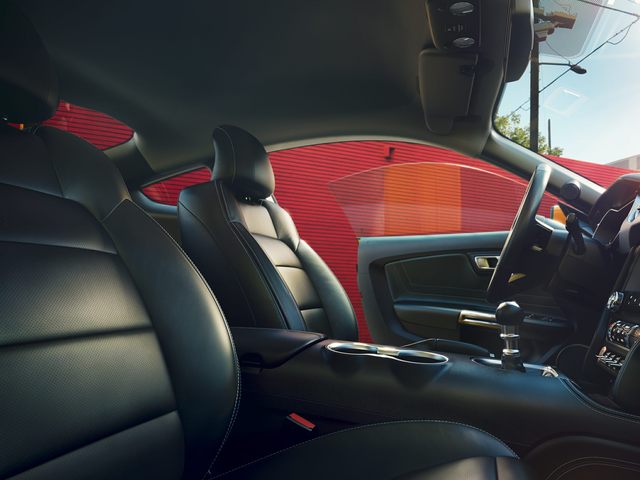 Available Technology
The beauty of the 2020 Mustang muscle car is that it has the brains to back it up. Standard and available with a plethora of advanced technology features, the new 2020 Mustang is engineered to keep you connected and safe when traveling through Waterford, PA. Centered around a class-exclusive 12-inch LCD digital display cluster, the 2020 Mustang gets its tech-savvy appeal from its customizable layout options. Choose which colors and features you like best so that your unique driving experience is tailored directly to your needs.
What sets the new 2020 Mustang apart from the competition is its attention to detail. Standard equipped with a performance-based monitoring system, drivers can view and consume race-ready specs from the instrument panel while staying locking in your lane on the highway. Check your lateral and longitudinal g-force rating on the Accelerometer and help control your power output with Electronic line-lock and Launch Control. Designed to bring the full racecar experience right to your driveway, the new 2020 Ford Mustang toes the line of road-legal performance with its astonishing power output and high-speed capability.
2020 Ford Mustang Trim Levels
The new Ford Mustang is perfect for weekend adventurers who have a fascination for power. If you're interested in learning more about America's heritage of racing and you're eager to feel the adrenaline pulsating from the engine to each one of your fingers on the steering wheel, the new 2020 Mustang is right for you. The new Mustang comes available in five unique trim levels, including the:
EcoBoost - The base EcoBoost trim comes standard equipped with a 2.3-liter four-cylinder engine, six-speed manual transmission, a limited-slip rear differential, 17-inch wheels, and a 4.2-inch center display screen.
EcoBoost Premium - The Premium model upgrades to 18-inch wheels, leather upholstery, an eight-inch touchscreen, a nine-speaker audio system, Apple CarPlay, Android Auto, and Ford's Sync 3 infotainment system.
GT - The GT trim ups the ante for performance, featuring a 5.0-liter V8, power-adjustable front seats, and sport-tuned 18-inch wheels.
GT Premium - Moving up to the GT Premium model gets you exclusive access to the GT Performance package, which includes significant brake, tire, and suspension upgrades.
Bullitt - The top-of-the-line Bullitt trim level bumps up the available power output to a staggering 480-horsepower. Additionally, this model features a unique exterior paint design, special wheels, and removal of the rear spoiler.
Schedule a Test Drive Today
For more information about the new 2020 Ford Mustang, please call or contact us online to schedule a test drive. Explore our new inventory online from the comfort of your home and begin searching for which new 2020 Mustang models we have in stock at our facility. We look forward to meeting you!

Hours
Monday

9:00 AM - 8:00 PM

Tuesday

9:00 AM - 8:00 PM

Wednesday

9:00 AM - 6:00 PM

Thursday

9:00 AM - 8:00 PM

Friday

9:00 AM - 6:00 PM

Saturday

9:00 AM - 3:00 PM

Sunday

Closed