Courteous and Professional Auto Service at Champion Ford Sales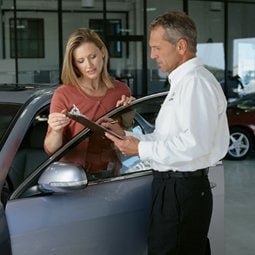 Do you have a Ford Escape whose maintenance light just popped on? A Ford F-150 with brakes that seem a little more sluggish than usual? Your Ford vehicle is your baby and you want to make sure it keeps in top shape. At our Erie dealership, we have the same thing in mind: keeping your Ford car, truck and SUV running as smoothly as possible. That's why we provide a world-class experience at our service center so you get the best possible solution for your needs.
Our skilled technicians are capable of any service-big or small-and ready to take on the challenge. They undergo rigorous training and have a vast knowledge of the Ford lineup to always be prepared. Routine maintenance is important and helps keep your SUV, truck or car healthy and ready to handle the road.
Want to schedule an appointment now? Swing over and set-up something today!
Our Ford Dealership is Capable of Common to Complicated Services
We're ready to cure what ails your car, truck or SUV using equipment we keep up-to-date and in high-functioning quality. We are here to help you and our number one goal is your satisfaction. We offer a range of services that include:
Tire Rotation
Multi-Point Inspections
Oil Changes
Battery Replacement
Transmission Service or Repair
Engine Diagnostics
If you're uncertain, we can assure you that we only offer quality Ford OEM parts that ensure you are only getting the best in your Ford car, truck or SUV.
Champion Ford Sales are Ready to Complete the Your Service
We are here for all of your needs and are more than capable of handling whatever you want to throw at us. When you've been in the business of providing quality service as long as we have, we've learned to streamline the process and make it stress-free for you. We'll take care of everything and you'll drive away knowing your Ford vehicle will run like the day it came off the lot.